I have three dogs.
Their names are Ivy, Rex, and Lia.
Lia is Ivy's daughter, and our youngest puppy. She loves bananas, and she loves to bring you things. You can see the pride in her eyes when she presents you with a gift. She has zero concept of personal space, and will happily hop right on top of Ivy or Rex on the couch.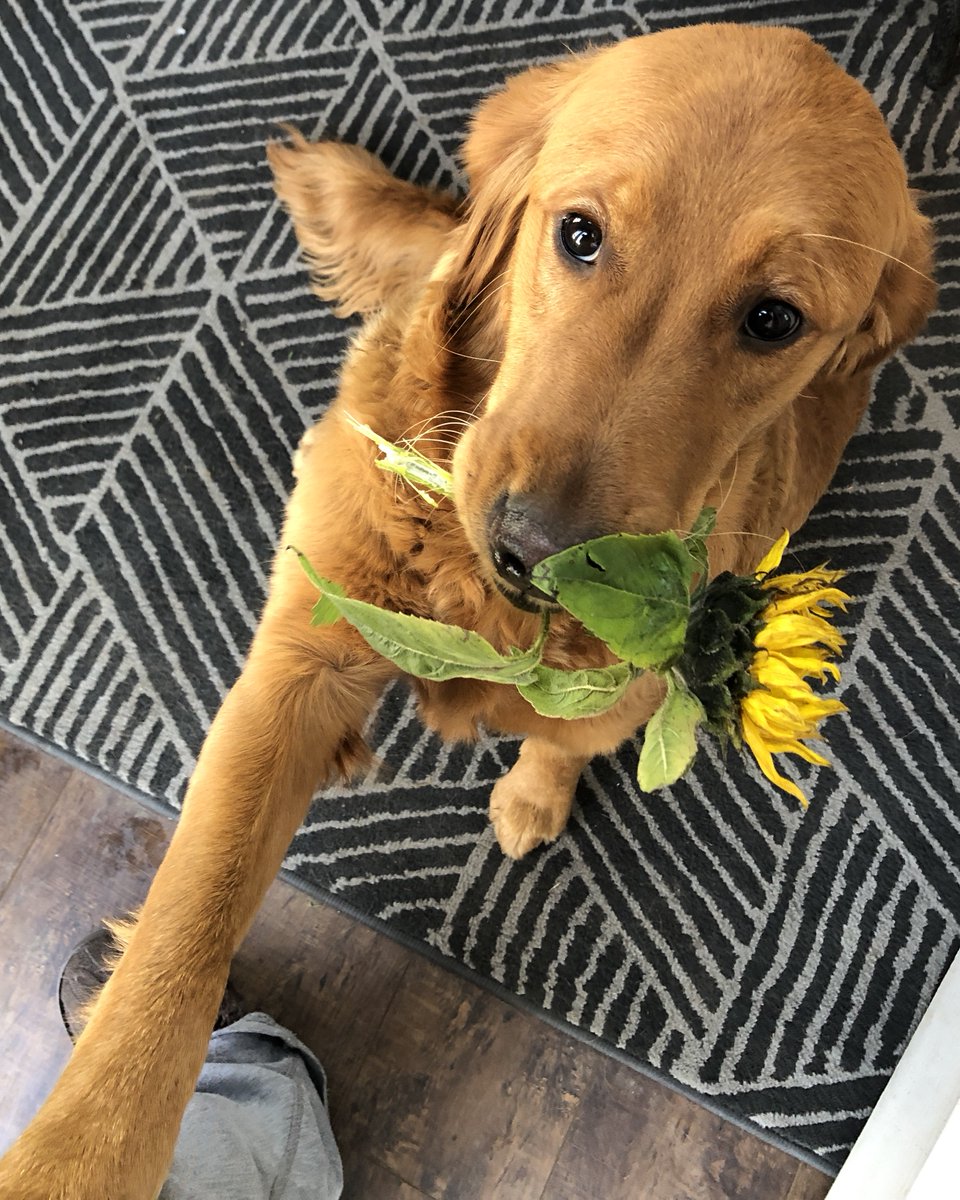 At one point in February 2018, I had nine (9) dogs, which is a lot of dogs to have.
Where'd you get that dog? We'd LOVE a Golden Retriever like that!
It's hard not to love a Golden. As our friends and our family met Ivy and Rex, several of them asked for our breeders' contact info. They also let us know that if they were left alone with the dogs for long enough, we might not get them back. We heard stories of people who grew up with Goldens, and wanted that same experience for their kids.
We took all of these comments to heart. Ivy was not spayed young, and so we talked about her having a litter of puppies. Ivy is a beautiful and textbook Golden, her test results had all been positive, and her personality and looks had already won over everyone who had met her. I have a little bit of experience with dog breeding, as my mother had been a small dog breeder in my last few years at home. I know all about the whelping process, vaccines, necessary care, and the like. My wife also had experience with animal birth, but from the feline/kitty side.
We talked with a few of our family and friends who were the most serious about trying to kidnap Ivy or Rex, and confirmed that they'd be interested in a puppy. Our #1 goal was making sure that any and every puppy would have a loving home.
Finding a stud
The first step towards a litter of puppies was finding a suitable father, or stud. Rex is neutered, but more importantly, his coat is very thin and not fluffy. It doesn't make us love him any less (in fact, he's much easier to wash!) but he is not a great example of the breed. We searched the classifieds for stud ads, and found a family nearby with a very fluffy stud, Howdy.
After ensuring that Howdy and Ivy were not related (thanks to K9Data), we scheduled to for the two dogs to meet during Ivy's next fertile cycle. When the time was right, in mid-December, we dropped Ivy off with Howdy for a weekend. Dogs have a very high fertilization rate, so our chances were good. We'd know in just a couple of weeks if Ivy would have puppies.
Pregnant with puppies
Dogs have a very short gestation period of only about two months. Ivy was growing fast, and so it was important to get her the proper nutrition in advance. We got an xray at our vet and found out that Ivy was expecting 7 puppies. That's an average-sized litter for a Golden. Ivy was in a litter of 13 puppies when she was born!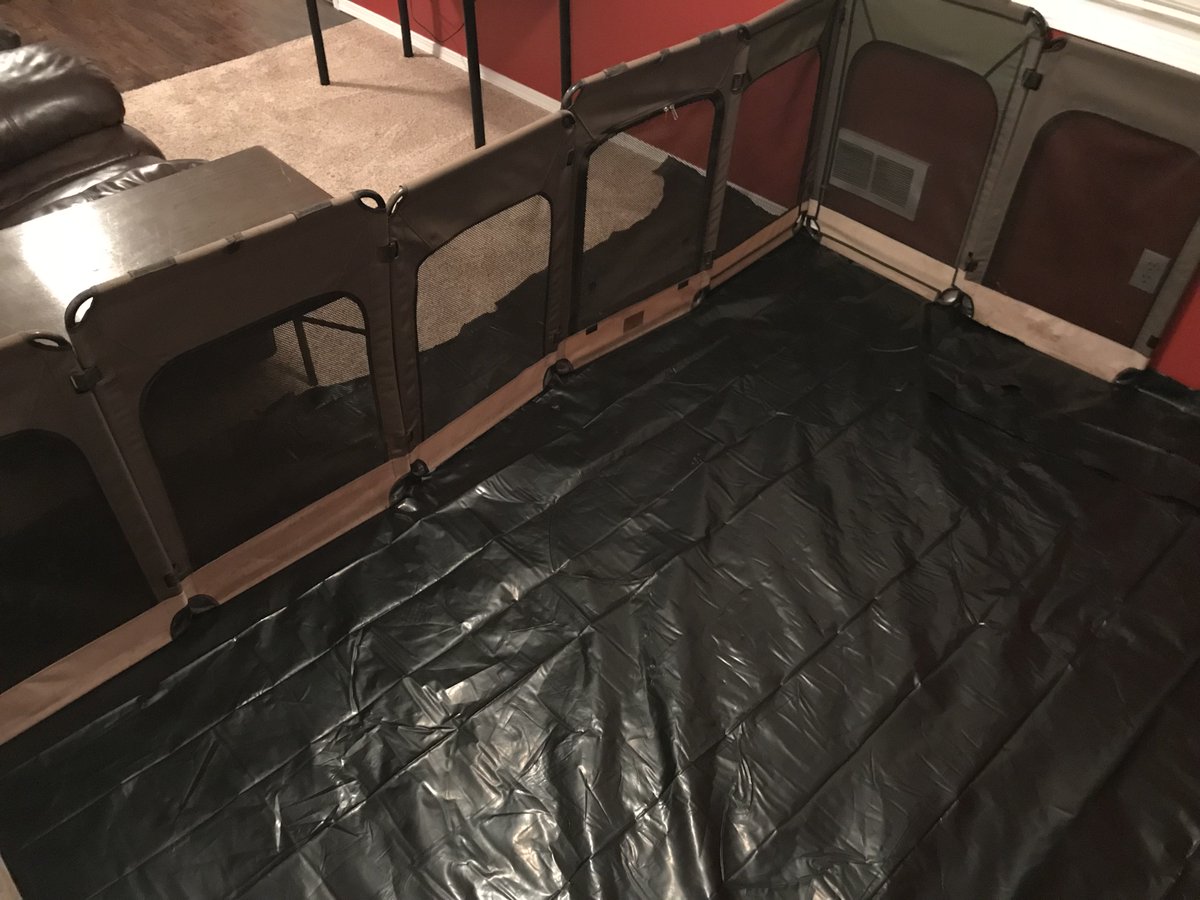 We prepared an unused area of our house for Ivy's personal puppy zone. It had a dedicated wall heater to keep it warm, and I put down layers of black landscaping plastic to protect the floor and baseboards.
I also built a whelping box for Ivy and her puppies, as that's very important for her to feel secure that her puppies are safe.
Seven puppies
By the time Ivy's litter was born, all of the puppies were claimed, and we already had a "waitlist" of people who wanted their names down for the hypothetical next litter.
A friend of mine gave me the idea of setting up a puppy cam to livestream the puppies. I thought this was a great idea, and bought a webcam and tripod from Amazon. I used a spare old laptop and set up a YouTube live stream of the puppy pen. We ended up streaming from 10 AM to 10 PM nearly every single day of puppyhood (about 8 weeks). All of the future puppy owners were able to watch their chosen puppy grow up and interact with Ivy! It also let me watch them obsessively at all hours, including checking in on them at night and while on break at work.
Of course, I also had to set up a website, Puppies by Ivy, to share updates and pictures of the puppies. I weighed each puppy every single day to track their weights and growth, to make sure nobody was falling behind, and charted everything in a Google Doc. The future puppy owners loved to see their puppies making progress and jockeying for the Biggest Dog title!
Work
Caring for puppies was a lot of work. My wife and I were running the laundry machine all day, every day, to keep enough clean bedding for the puppies. Poop cleanups had to happen on a regular schedule, as well as feedings, weigh-ins, and veterinary care. The workload only grew when the puppies began getting big enough to work together to escape the puppy zone, and so we had to work on reinforcing the pen and keeping them corralled. A breakout would take a long time to recover from: chasing down seven tiny puppies, and cleaning up any messes they made while on the run.
The little things
We wanted to give the puppies and future owners the best experience possible, so we tried to do all of the little things we could. We gave each puppy a velcro collar with a particular color, and built those into the stream overlay, so people could follow their particular puppy's antics. We also had matching Wonder Walkers for each dog to keep the color scheme going. We took nice photos of each puppy individually once per week, so that you could see their growth and development week over week. We made sure all of the AKC paperwork and microchips were done ahead of time. We also hosted a couple of puppy meetup days, where the future owners could bring their family and friends to meet the puppies and help them get socialized.
Loving homes
We were able to accomplish our goal of giving every puppy a loving home. Three went to our families, two went to coworkers with older Goldens at home, and one went to a nearby friend . We've been able to meet up with the puppies and owners and see how great they're doing. The final puppy, Lia, stayed here with us.
Overall, it was a lot of work, but it was worth it. As my veterinarian told us when we asked him about Ivy having a litter: "The world can always use more Goldens."