<Trademarked>
The guild I've led since 2007. Horde forever.
[HordeTM]
The clan I started to carry on the tradition into Destiny, and beyond.
TMCon
The LAN party we designed to bring us together.
BlizzCon
An early Lucille's BBQ visit
The entire party room of Lucille's
Our first house party
Those hallowed halls…
Every November, we meet at BlizzCon in Anaheim to celebrate our victories and to drink to our futures. We've been playing together for more than a decade, and BlizzCon was the obvious rallying call. We play Blizzard games together, everybody loves a swag bag, and there's nothing more suspenseful than waiting for the opening ceremony to start. Chris Metzen yelling to the audience? Pure joy.
We took a vegetarian here… sorry Phil…
We had our yearly rituals: pastrami at The Hat on Thursday after picking up our bags, bagels and Red Bull and waiting in line on Friday morning, a guild dinner at Lucille's BBQ on Friday night, and trying to find an open bar party on Saturday after closing ceremonies . We had a great time together every year.
There's just one problem: Anaheim wasn't big enough for us anymore.
As the Trademarked family grew in size, it became harder and hard to find accommodations in Anaheim. We were spread out across Disney-themed rental houses and overpriced hotel rooms. Code Enforcement was showing up any time we tried to congregate. We couldn't even host a barbecue without the "neighbors" calling us in. Everybody in the entire damn town is a narc. We even had to drive to the next city over to get liquor at reasonable prices .
Three hours of ping pong and various chips/dips
It was BlizzCon 2018's muted celebration that finally broke me. We had to rent out a party room just to get our crew all together at the same time. Paying for craft beer bracelets, serving cold cuts, and hitting shuffle on my Daft Punk playlist was never what I imagined.
Planning
First, I want to set the record straight. There's a reason that I don't call it "SushiCon", and that's because Mory does way more than her share of the work. It's TMCon because it's put on by all of Trademarked for all of Trademarked, and it's not about any one person. When I say "we" here, I mean Mory and myself, and probably mostly Mory.
Mory and I started planning TMCon right after BlizzCon 2018, in early November. We were sitting in the airport, waiting for our flight back to Seattle, and feeling like we hadn't gotten to spend time with the people we came for. Housing and transportation restrictions ruined the community aspect. But if not BlizzCon, then what? What about just having people over to our house? Would that even work?
We ruled out trying to line up with events in Seattle like PAX Prime, where people would have to pay for tickets and flights would be full. Our house in Kent is also too far from Seattle to make it a cheap ride away. We ended up picking a regular weekend in March that coincided with Saint Patrick's Day . Flights were cheap, and we could add some holiday theming to the event. March also avoided the "too hot" problem that can happen at summer LAN parties, but also was late enough that we didn't have to worry about snow. We planned for four days, Friday through Monday, but Saturday and Sunday were by far the most-attended days. On Monday, we were reduced to just those few folks waiting on their flights.
I also made a page on our website for TMCon to be able to easily invite people!
Setup
We had no idea how many people would show up, so we posted signups in late December. We hoped that would give people enough time to buy flights and ask for time off of work. All told, we had over THIRTY attendees at the inaugural TMCon.
We broke our budget and planning up into broad categories:
Bedding
Food
Gear (PCs, tables and chairs, etc)
Swag/Branding
Other
Bedding
I'm an artist too
We measured every room in the house, and figured that we could host at least a dozen people. I originally planned for bunk beds , but we found that high-quality air mattresses (a mix of twin and queen) were actually much more reasonable. We bought all of our bedding in bulk from Costco and Ross. I actually went to Costco for our normal grocery run, and I saw a display with jumbo pillows and blankets up front. I texted Mory and she had me fill a cart with them. We made some educated guesses about who would be staying over, and tried to assign rooms. We wanted a bed, sheet, blanket, pillow, case, and towel for every single sleeper. This had a high initial cost, but luckily, is 100% reusable for future years.
We also planned a few extra beds for folks that needed to "crash", which worked out in our favor. Our maximum capacity was the 19 people that stayed over on Saturday night. The tankless water heater was able to keep up with the demand, and I think everybody had plenty of space for themselves. We stacked 4-5 of the beds on top of each other in the corner of the VR/upstairs media room, which worked great to convert it into usable space after everyone woke up.
Food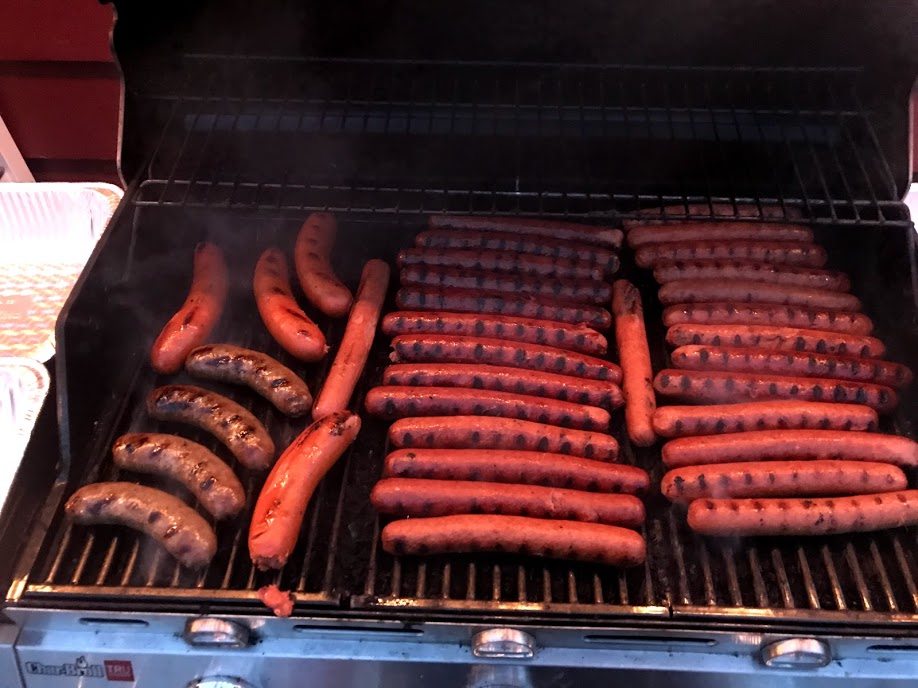 Hot dogs parallelize well
We planned out the meal schedule for three square meals a day: breakfast, lunch, and dinner. We had a snack and drink budget too, but we knew that meals would make up the bulk of our time and cost .
We redid this like 100 times
We planned some of our signature meals, like Chris' Famous Skewers, Little Mac's BBQ, and my Smash Burgers .
We updated the $100 game to be the $1000 game
We bought food in three batches: a preliminary dry food and drink run, a two-cart Costco trip to load up on meats, and then a final Costco and Safeway trek to get all of the vegetables and fresh foods. I started food prep a full week before, trimming and brining a prime brisket for corned beef. I bought a cheap used fridge off of LetGo from a family in Tacoma just to give us the extra drink and freezer space. I also might've had a few impulse snack buys on the way, too.
They were camping the spawn/doors
This turned into corned beef
Meals went mostly according to plan, although I think we were just a little short in a few places. We did have a cascading bread failure:
People used outdoor rolls instead of bread for sandwiches, because ?? reasons ??
People used brioche buns instead of outdoor rolls for hot dogs, since we ran out of outdoor rolls (see #1)
People used Hawaiian rolls instead of brioche buns for hamburgers, since we ran out of brioche buns (see #2)
We didn't have enough Hawaiian rolls for the pulled pork (see #3)
Look at this beef that Chris got for skewers
Cooking with gas
We ended up pivoting on a couple of scheduled recipes , namely the chili. After seeing how much time was being consumed on preparing meals, I wanted something simpler than the all-day affair that Slake's chili demands. I definitely underestimated the work it takes to cook for 25 people. At one point, I had my two sous-chefs, David and Scott, running all 4 burners on my stove at the same time. The food was great, it just took most of my time throughout the weekend.
Now we're thinking with portals
I didn't remember to get green beer
I also made a few steaks for folks after 2 AM, which is about the time when you want some meat to soak up the alcohol you've been drinking.
Gear
The main LAN area, 10 PCs deep
My garage was already full of computers and computer accessories from LAN parties past. I added a few more PCs and monitors to bring us up to 16 total stations. Jeff and Roman went over the top on helping me here. I wanted to be able to field at least a full Overwatch lobby, plus a few extra. We planned a few spots for people to bring their laptops or their own rigs too. I created a new wifi guest network with my Ubiquiti gear in like 30 seconds.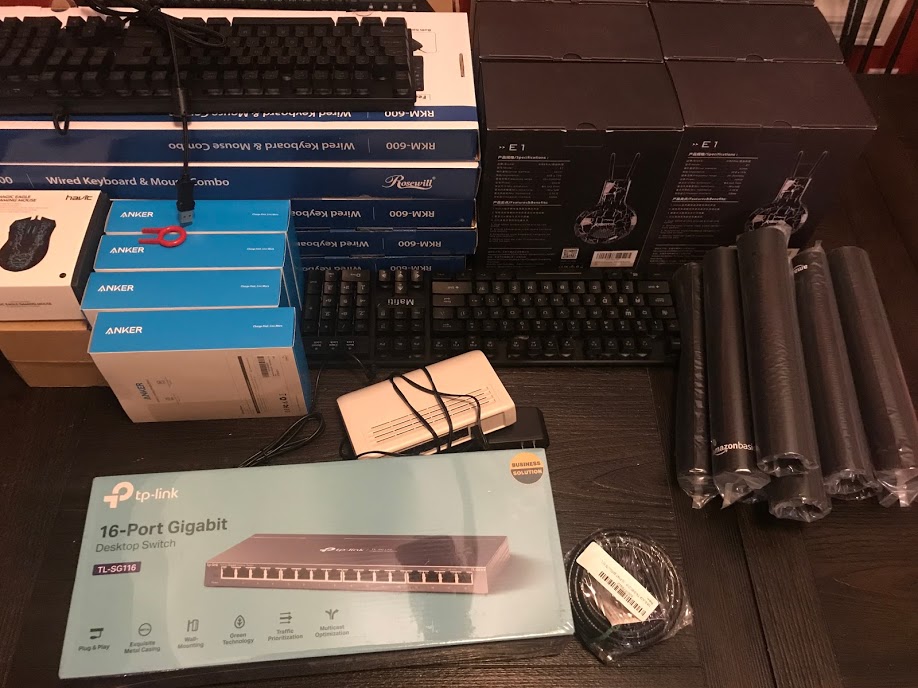 Amazon is the best
Like bedding, I knew this stuff would be reusable, so I bought a ton of keyboards, gaming mice and pads, and cheap headsets from Amazon. We had so many unique and random peripherals attached to each PC. As we drew up our floor plan, I saw that some 8-foot tables would fit perfectly in the computer area. I found a local rental company that brought us a stack of tables and chairs to accommodate everybody .
Shout out to Tents and Party Rents, LLC
For consoles, I reached out to my coworkers, who came through with a ton of great gear. We had fully kitted out Xboxes and XB1s, more Switches and pro controllers than I could count, and a full room-scale VR setup. I kept everything straight by putting a small piece of colored masking tape on each peripheral, one color per donor. I just bought a big pack of different colored rolls of tape from Amazon. We also borrowed some board games, and I bought a few party board games to round out my collection. Codenames was particular fun to play with a group like ours.
Room vs Room LAN battles
I had two console rooms set up: one on the main floor, and one upstairs. However, we also used the upstairs room for VR, since it was out of the way and had a good layout for it. Once we had the VR experts arrive and get the equipment set up, it was Superhot and Beat Saber the rest of the weekend. I wasn't convinced originally that we should even have VR, but it was one of the stars of the event.
I had plenty of power and networking cables, save for being a single power strip short. My one and only Target run during TMCon was to grab that missing item so that we could get Artemis set up properly . Random HDMI-DVI cable for the VR PC? Got it. 500' box of CAT-5E to run my own cable lengths? Got it. Weird power cable for the Xbox? Got it. Enough USB and lightning chargers for a few dozen phones? No problem. Bad SATA cable in the PC? Check the bin.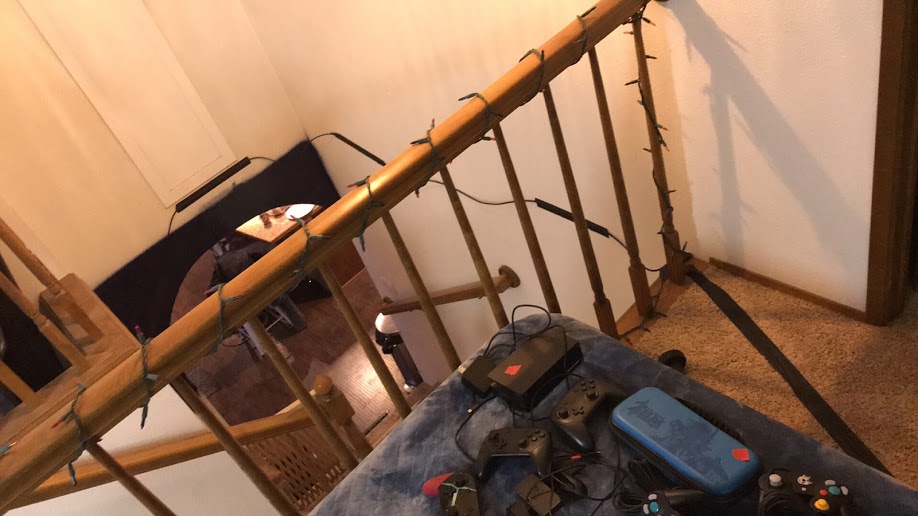 Don't trip
The early arrivers did the lion's share of the setup work. Ryan and Chris were working together to set up PCs, just like we all did years ago. They imaged the PCs, hooked up the peripherals, tested configurations, set up networking, pre-installed games, and ran the cables. We only flipped a breaker twice the entire weekend!
One thing that didn't work out great was music. I had a dedicated Spotify iPad and a shared TMCon playlist set up, and a bluetooth speaker to provide good quality sound, but nobody seemed interested in adding any music. I ended up just putting it on different Spotify "radio" stations each day and letting it ride. Not as useful as I thought. We also never got a full room vs room console match going, since VR dominated the interest in the second console room.
I also upgraded to gigabit internet. You know, just in case.
Swag/Branding
The official TMCon logo
I wanted to go big. Every year for BlizzCon, we bought everyone in the guild t-shirts. With the short timeline to the event and the drop-in/drop-out nature of the RSVPs, I didn't want to commit to shirts. Instead, we went with a guild cup.
Mory designed the logo, and I started shopping around to short-order sites. In addition to the cups, we considered:
Pens
Bottle openers
Magnets
Water bottles
Umbrellas
Etc…
I also ordered a vinyl sign to mark the house, which I think turned out great. I also purposefully left the year off the sign, so we can reuse it next time!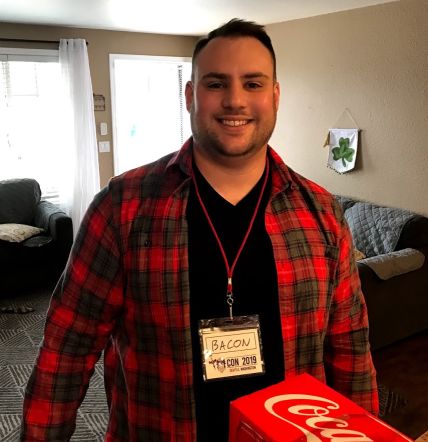 Bacon, attendee #1!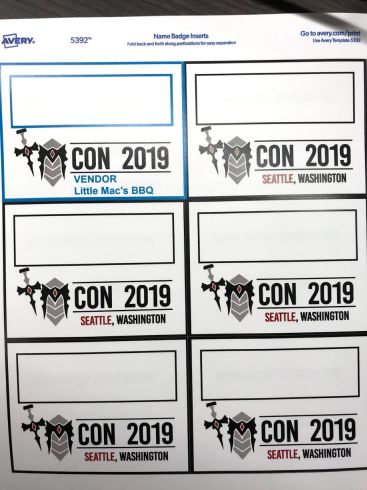 We also wanted to capture some of the BlizzCon feel at TMCon, so I grabbed some red lanyards and badge holders. Mory worked up a template for the badges, and I printed them out on cardstock. We even made custom vendor and admin badges to give it some more flavor. Because we had many different groups all colliding at TMCon (coworkers, friends, family, WoW folks, Destiny boys, etc), I wanted people to be able to mingle. We also put the wifi password on the back of the badge, so we wouldn't have to field questions about it.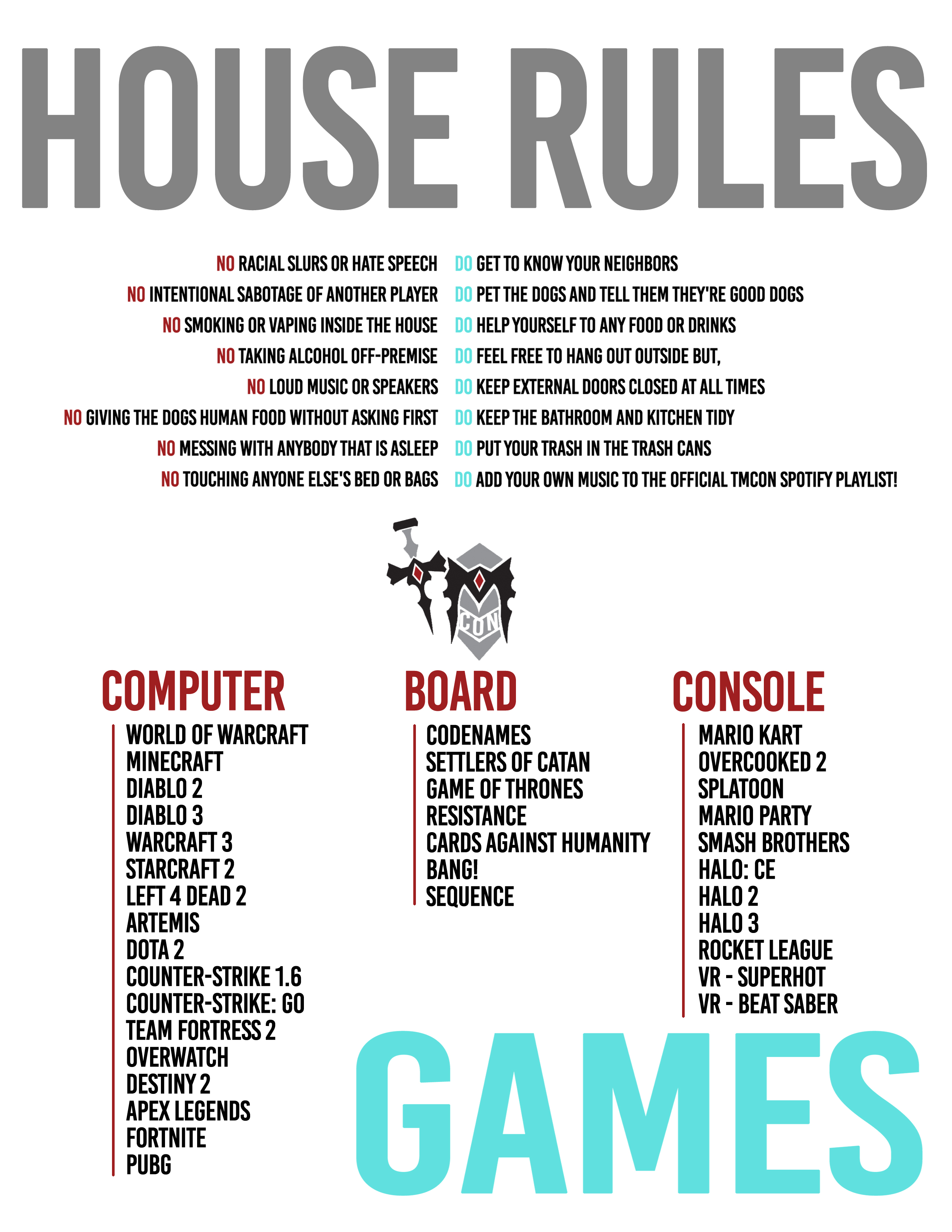 We had these both posted and distributed throughout the house
I also printed up our House Rules to distribute to attendees. Since this was the first TMCon, I wanted to make sure that we set the stage right away. The rules were both simple and loose, but got the point across .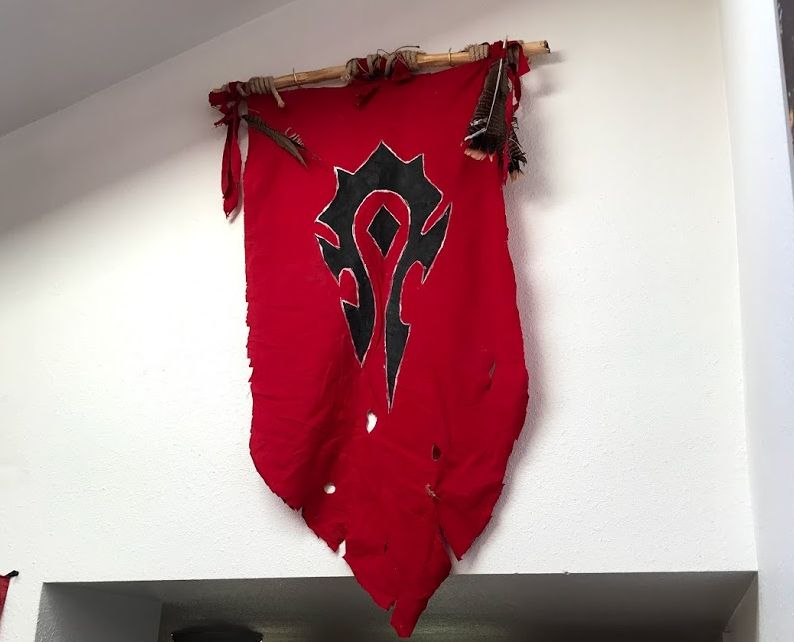 Complete with real hunted feathers
Witty also crafted us a custom Horde banner, that we'll proudly display in our home!!!
Other
We made the specific decision for the inaugural TMCon to avoid any external activities. Driving people to and from the airport would be the only time we left the house. We'd focus on keeping people engaged and entertained, instead of trying to schedule events and wrangle cats and figure out payments. People were free to leave (and some did!), but the vast majority of folks just hung out all weekend with us.
We helped to coordinate a few flights, to make sure anybody that wanted to attend could come. I had been stashing my airline reward miles for just such an occasion anyway. We figured out the schedule of when everyone was arriving, and grouped people up into time slots to minimize the airport trips where we could.
TMCon 2019
The event itself was amazing. We had great late-night discussions until 4-5 AM every night, and we all rallied for breakfast by 10. We played video games together, side by side. We got to accuse each other of cheating at Counter-Strike and scream at our Helm team to JUST DOCK THE DAMN SHIP.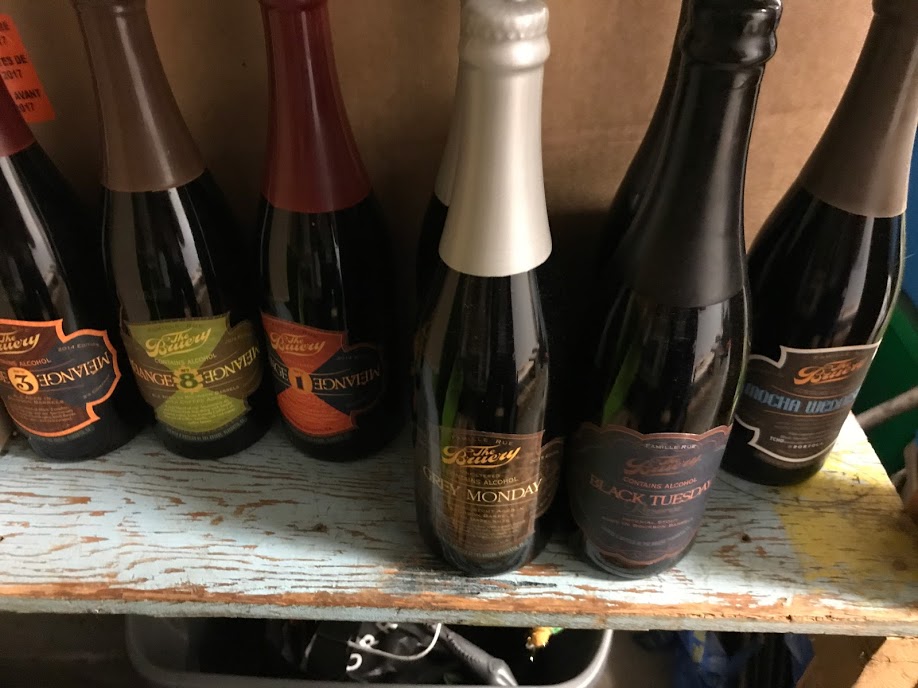 We tasted Rich's generously donated beers and QTFOOTS' curated whiskeys, we played a D&D one-shot full of mystery and betrayal, and we jammed the fuck out on Beat Saber. We even got some OG Halo in for good measure. My dogs got more pets than they've ever gotten in a single week.
TMCon 2019 was the party that I always wished we could have at BlizzCon. It was dozens of guildmates and allies playing together, sharing meals, and kicking ass. It was four days of friendship, built around games.
My wife, my sister, my coworkers, my former coworkers, new local friends, and my clanmates from another timezone were all at the same table.
We've been playing together for over a decade. Logging in every Thursday and Sunday to play WoW, grinding power in Destiny to hit the raid on Tuesday, strategizing our Overwatch teams, rerolling for sockets in Diablo, hotdropping in every battle royale with parachutes, and everything in between.
And we're just getting started for next year.
Orange 2, baby.