My dog Ivy passed away due to an unknown illness on 07/27/2021. She was 7 years, 9 months old.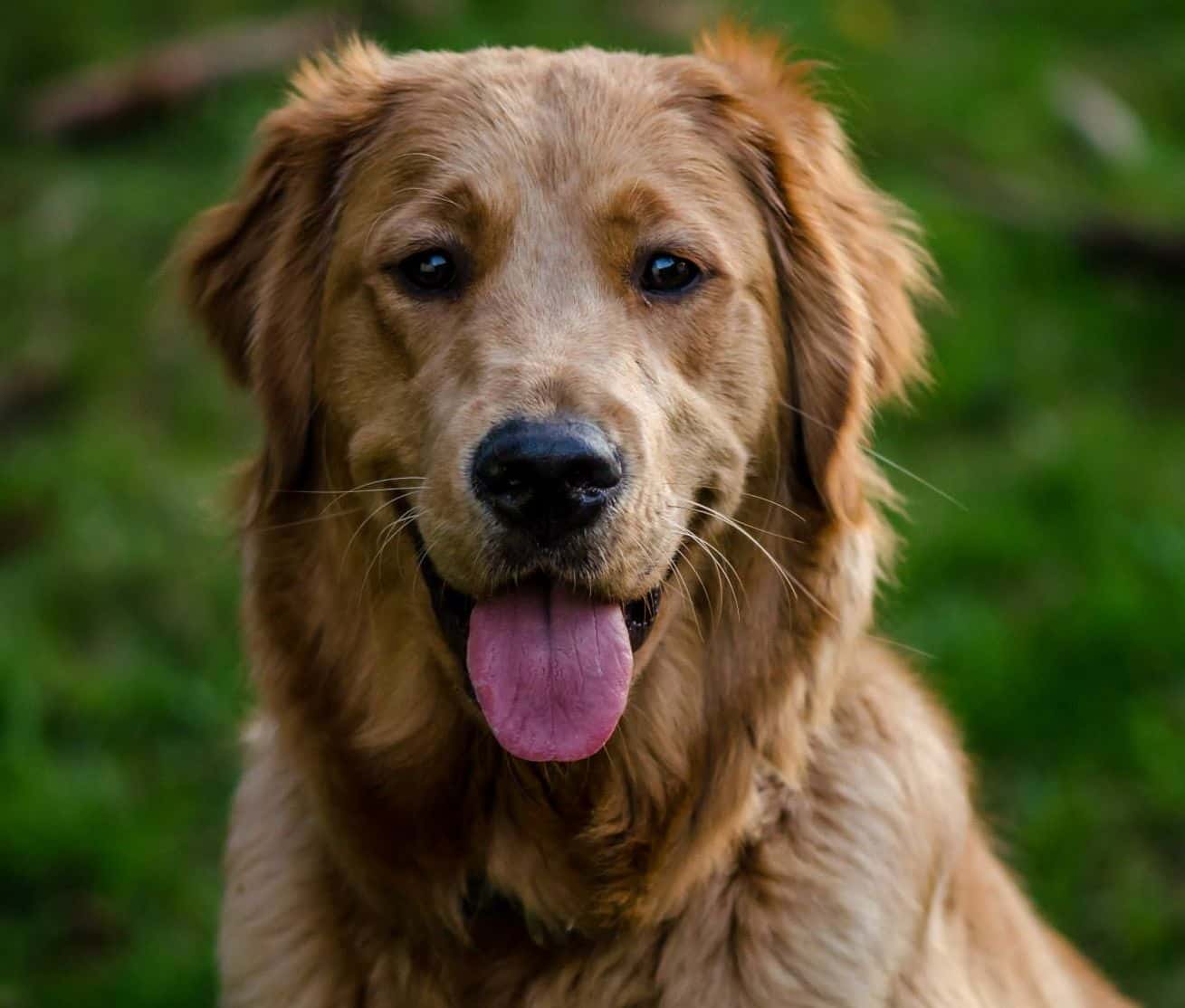 Writing this post over the past few days has been difficult for me. I start on one section, fall into scrolling through pictures and memories, and end up too upset to continue. Ivy was a constant in my life in Washington. Her presence was built into my rituals, into my mind. I still find myself checking for the "3rd dog" when I open the doors in the morning or close them at night. She was a comfort in times of deep sadness, and a light in times of great joy.
For those who have reached out or messaged me before this, thank you for your kindness, I have appreciated every word. I am through the worst of the grief and mourning now. I am focusing on celebrating the time that she was here. No more "sorry"s are needed.
Ivy Posts
My Two Dogs - About Ivy and Rex
My Three Dogs - About Ivy's first litter and Lia
Puppies By Ivy - About Ivy's litters
Guide this one, Kalahira, and she will be a companion to you as she was to me.
Ivy in 2013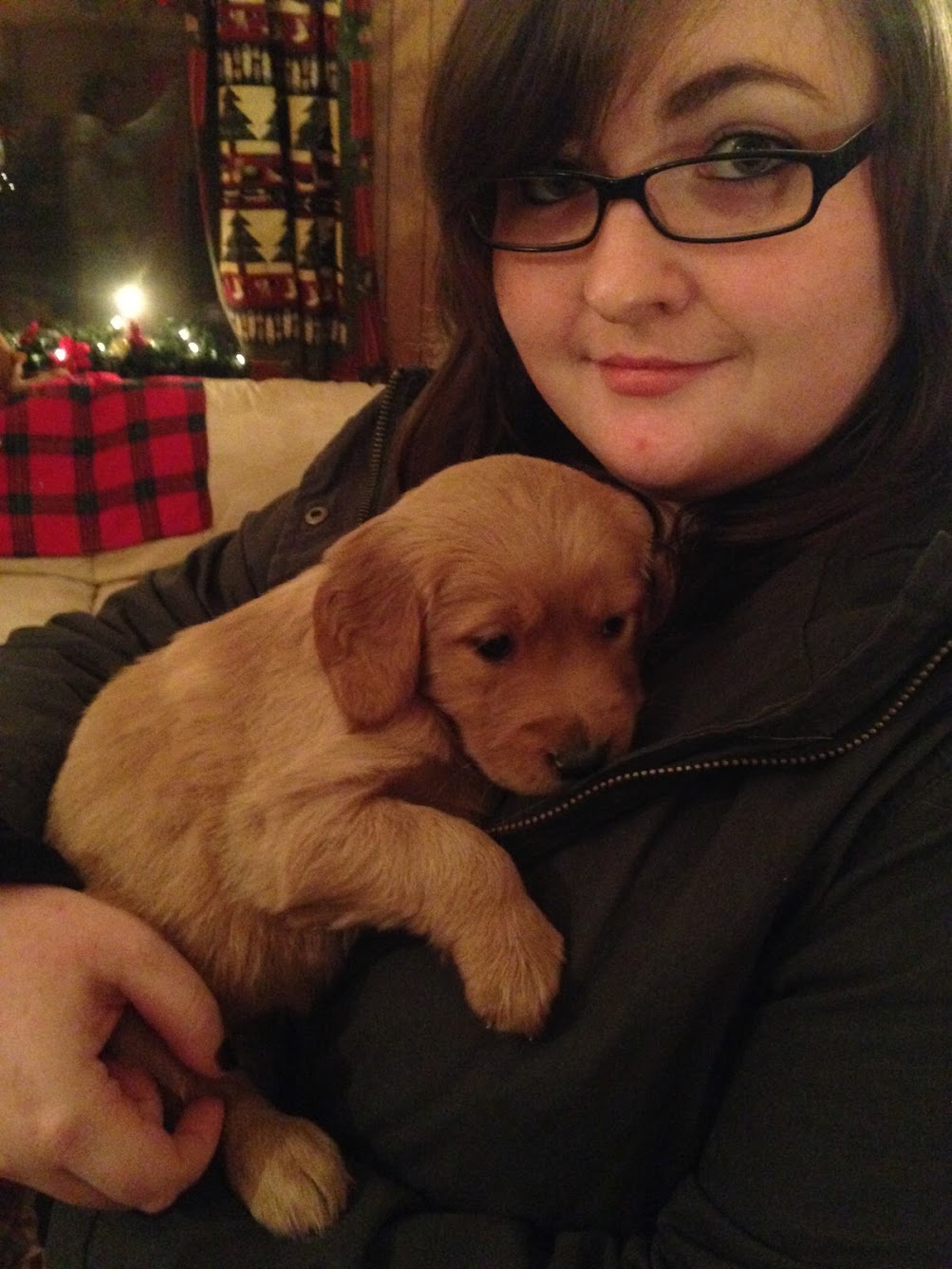 Our first pic of Ivy, the day we picked her from the litter
Ivy on her way home with us. My work was closed for two weeks right when we picked up Ivy, so I got to spend a bunch of time with her when she was a pup
Ivy loved rolling over for belly rubs from a young age
Ivy's first crate
Ivy in 2014
Ivy loved to bring home way-too-big sticks
I'd play fetch with Ivy in the hall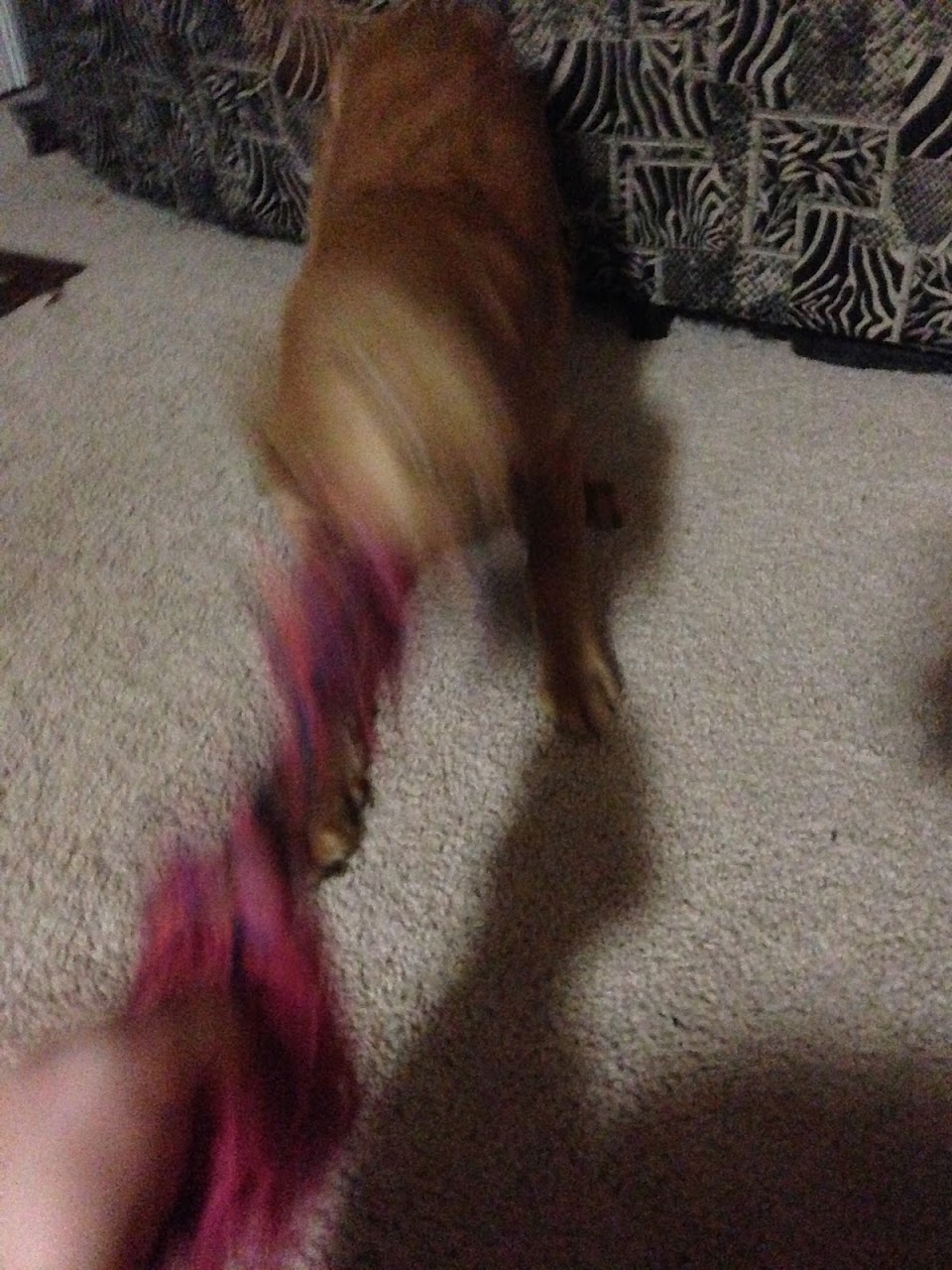 We also played tug-of-war, where she'd turn into a blur
She helped me play video games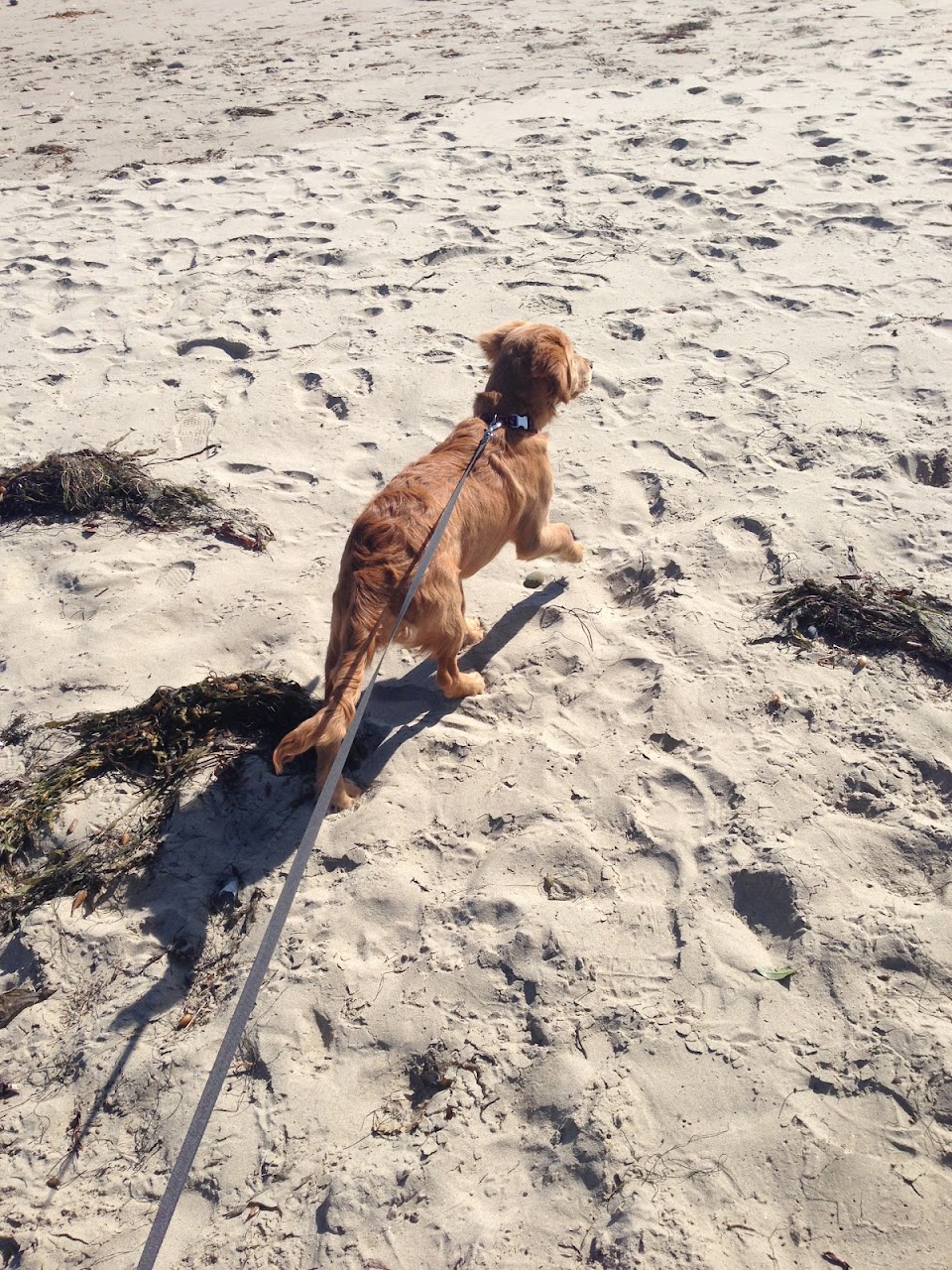 Ivy visited California with us, and got to check out the beach
Ivy's first raincoat, for PacNW walks
Ivy's first swim at Marymoor, biting the water
Ivy loved rolling her back in the grass
We moved out of an apartment and into a house with a yard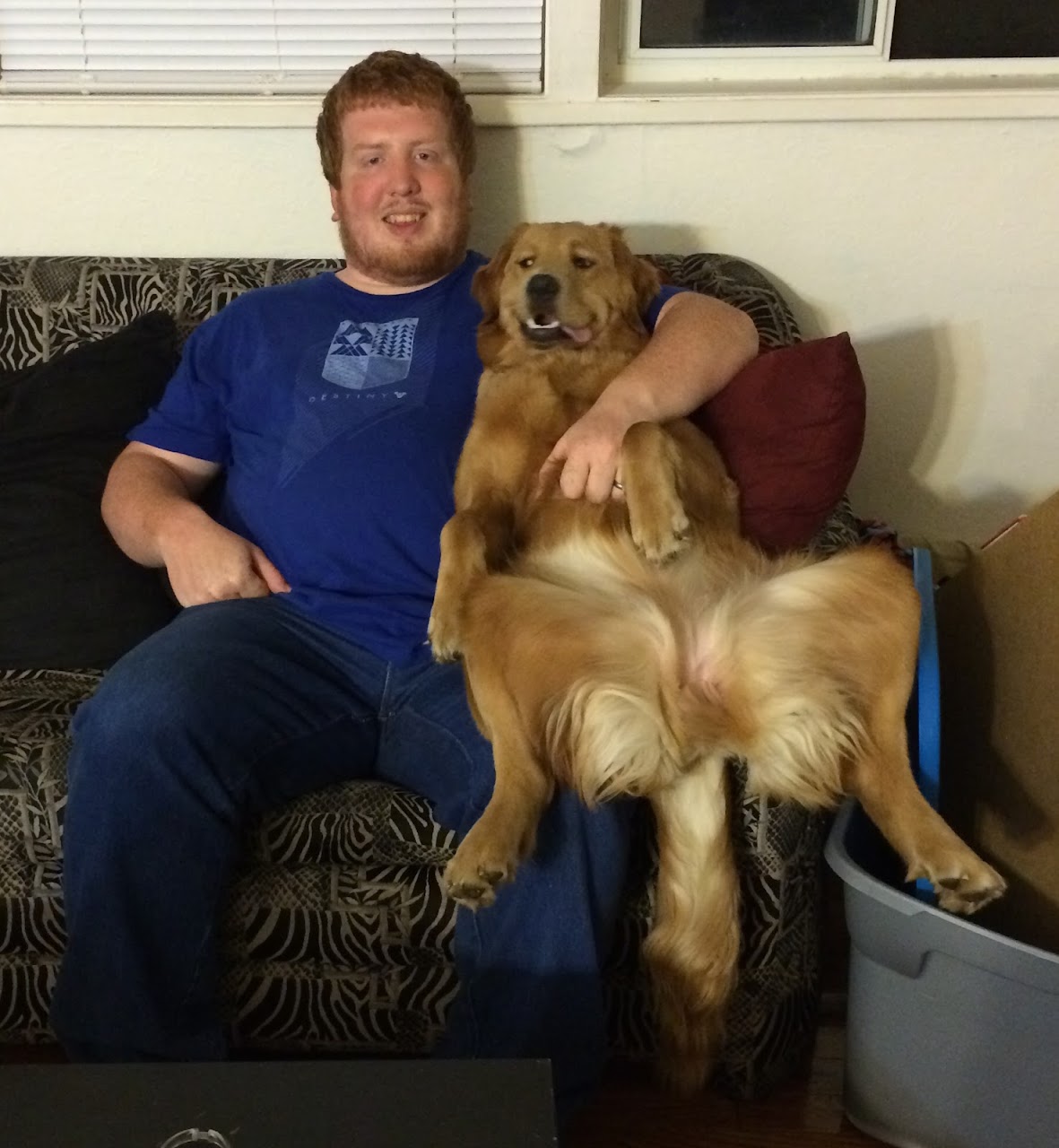 Ivy and I chilling out
Ivy also loved rolling in mud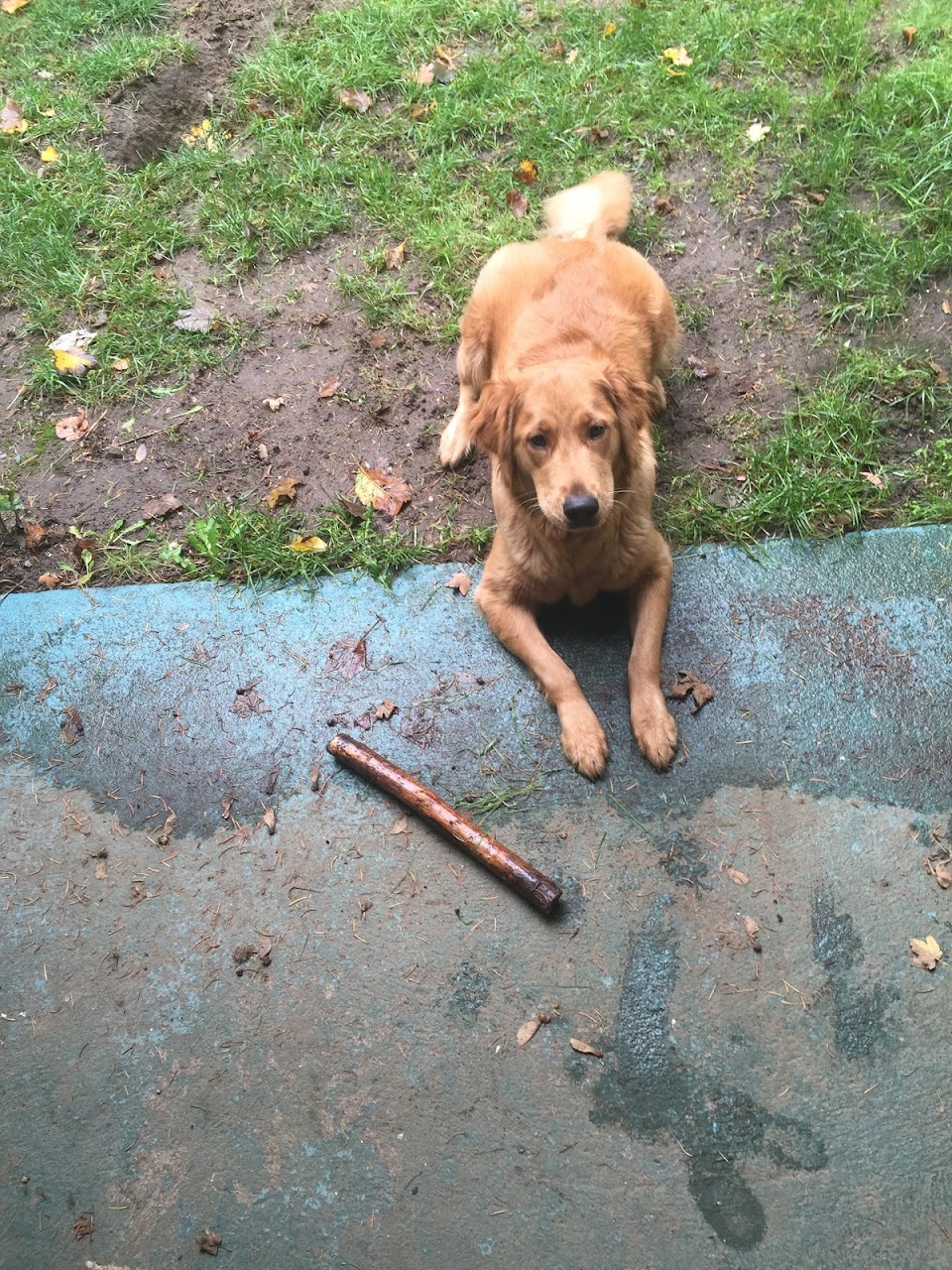 And playing fetch
Our first joint Halloween costume
My favorite Ivy memory is her head on my shoulder on a drive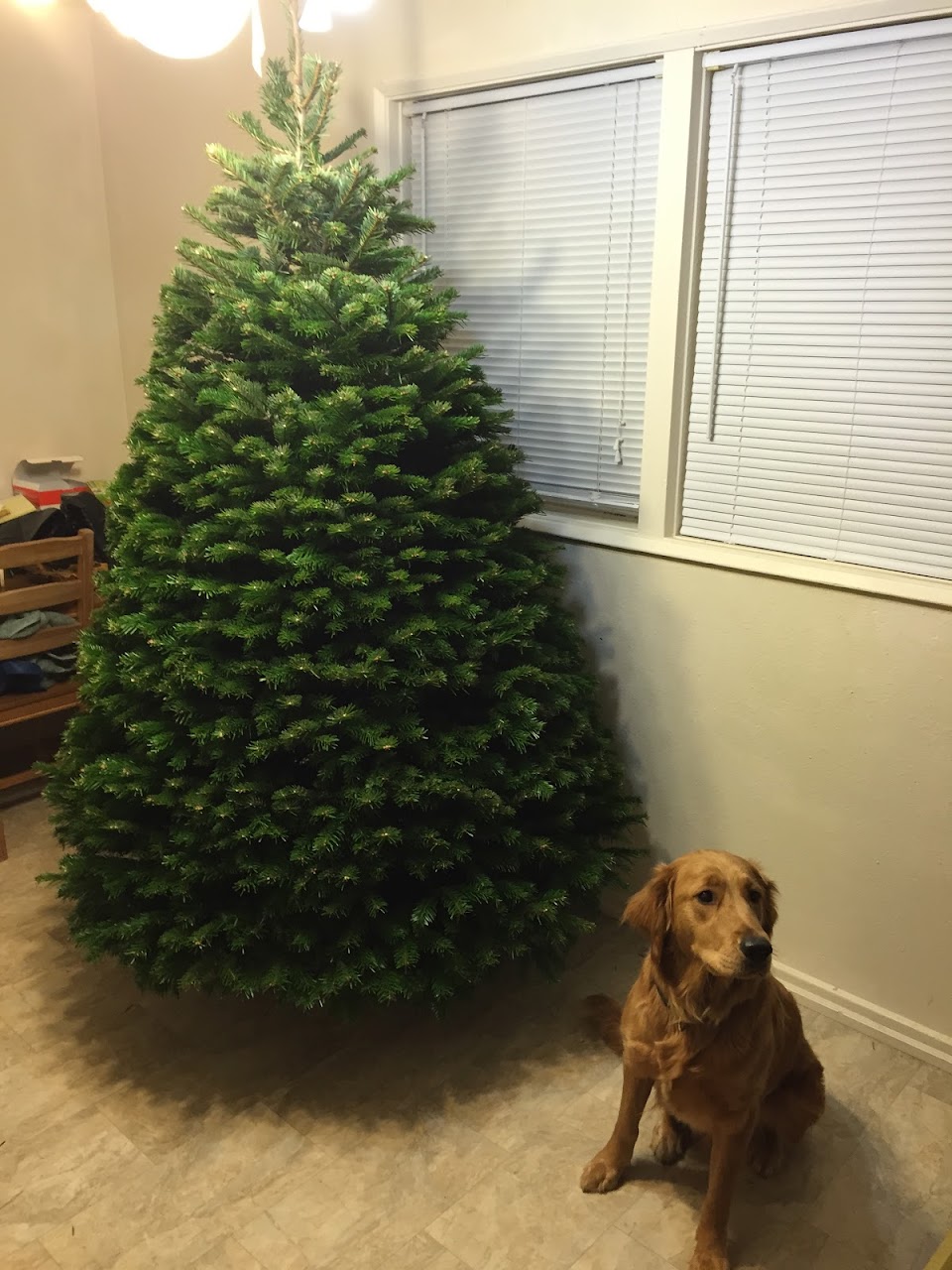 She hated Christmas trees
But enjoyed naps
Ivy in 2015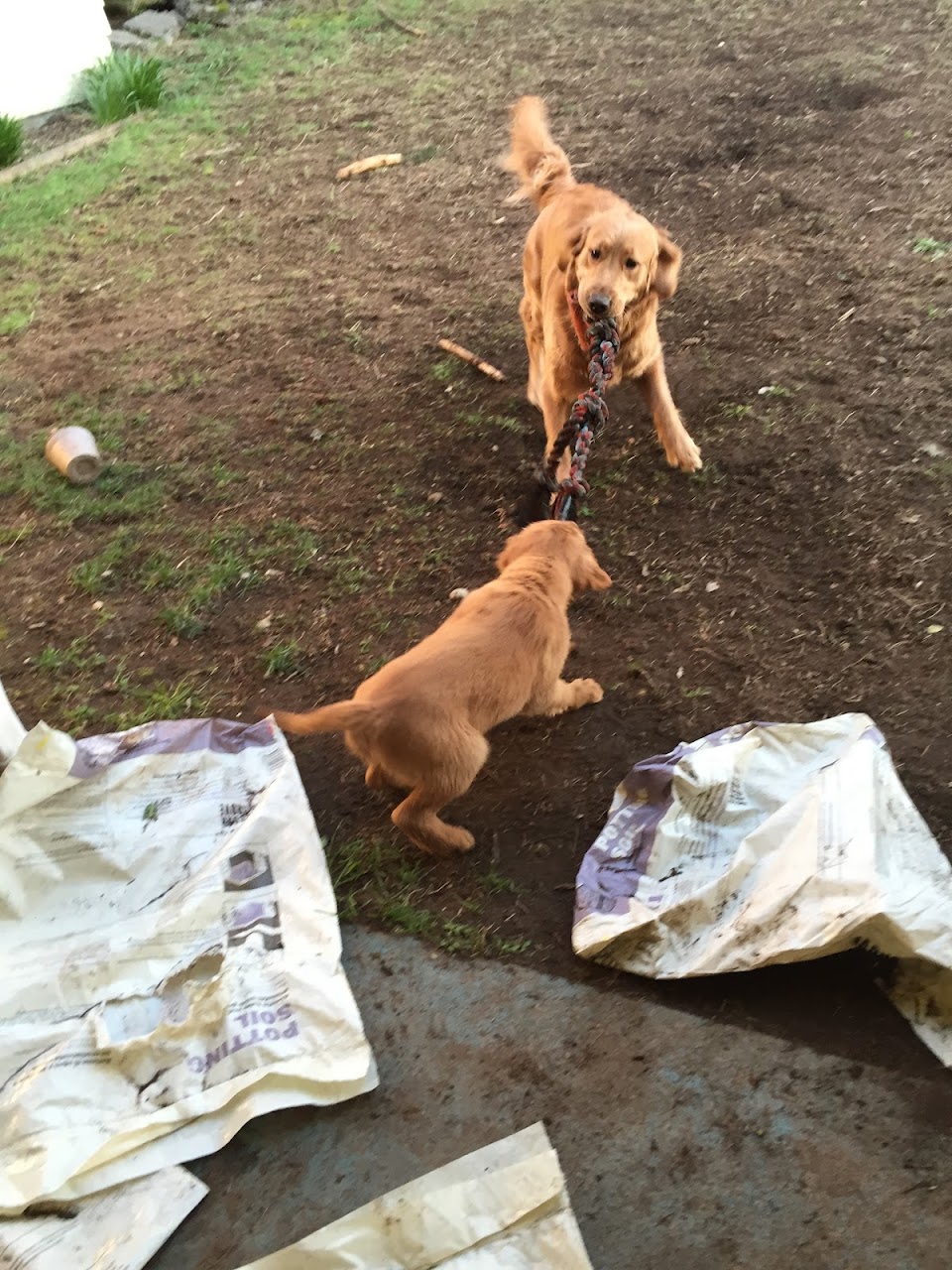 We got Rex to give Ivy a buddy
They got along really well
They were best friends
Ivy showed Rex the ropes
Ivy was almost fully grown
Ivy taught Rex how to swim
And we took them to Montana
Rex also loved the mud
Another car ride
Ivy owning the foot of my recliner
Ivy in 2016 and 2017
Ivy making a face
We started our ritual of steak & eggs for dog birthdays
Ivy and Rex were in sync
Ivy on the chair
Ivy and Rex on the grass at our new house. You can also see Ivy using her patented "fall over on top of you" move here
Ivy on a haybail
Ivy finding the mud again
Ivy trying to beat the heat with the A/C
Ivy in 2018
Ivy had her first litter in 2018
And we kept her daughter, Lia
Ivy and Lia were close
Almost carbon copies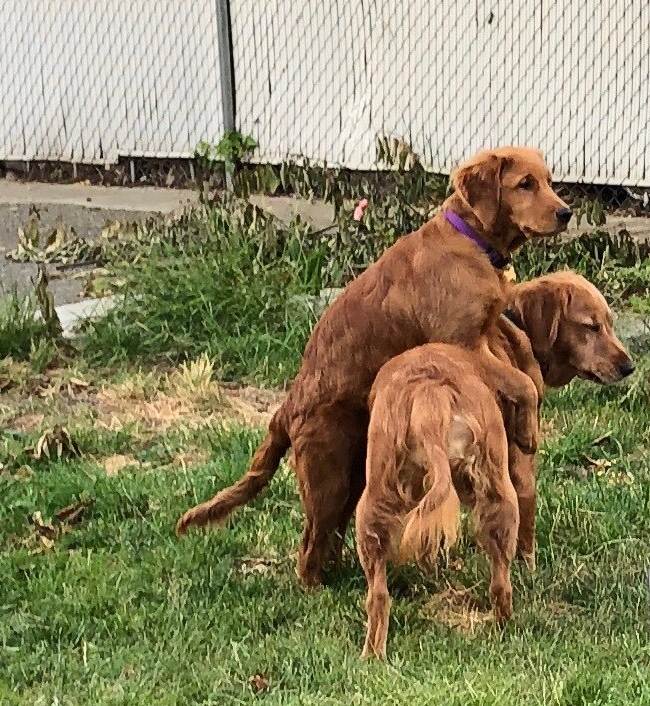 Although Lia could get on her nerves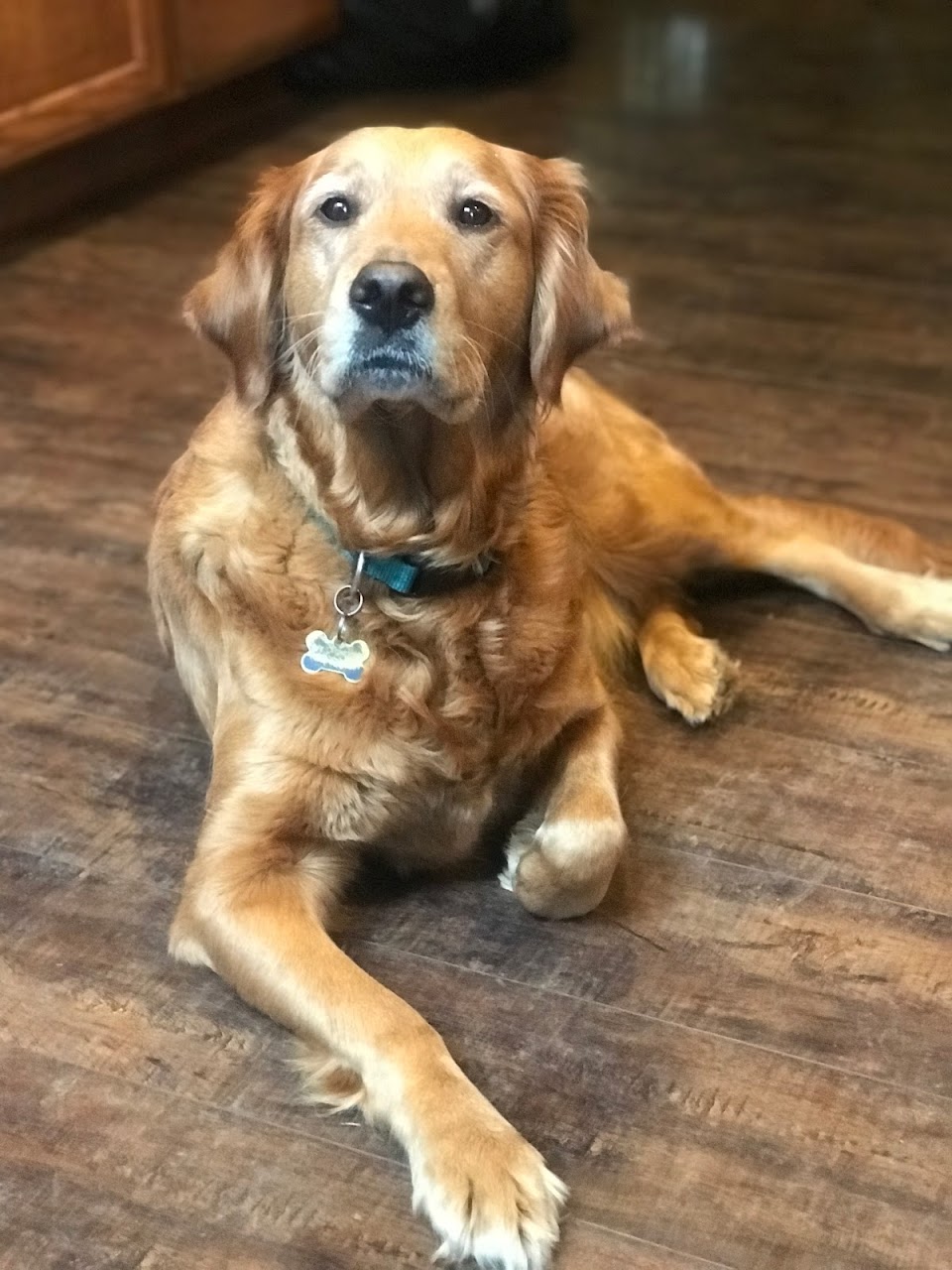 Ivy's birthday showed she had some white fur
Ivy in 2019
Mory took all the good photos of Ivy
Ivy also loved the snow, when we had it
Even after her litter, she was still a fighter
And a good mom
And a troublemaker
And still loved belly rubs
Ivy in 2020
Ivy had her second litter in 2020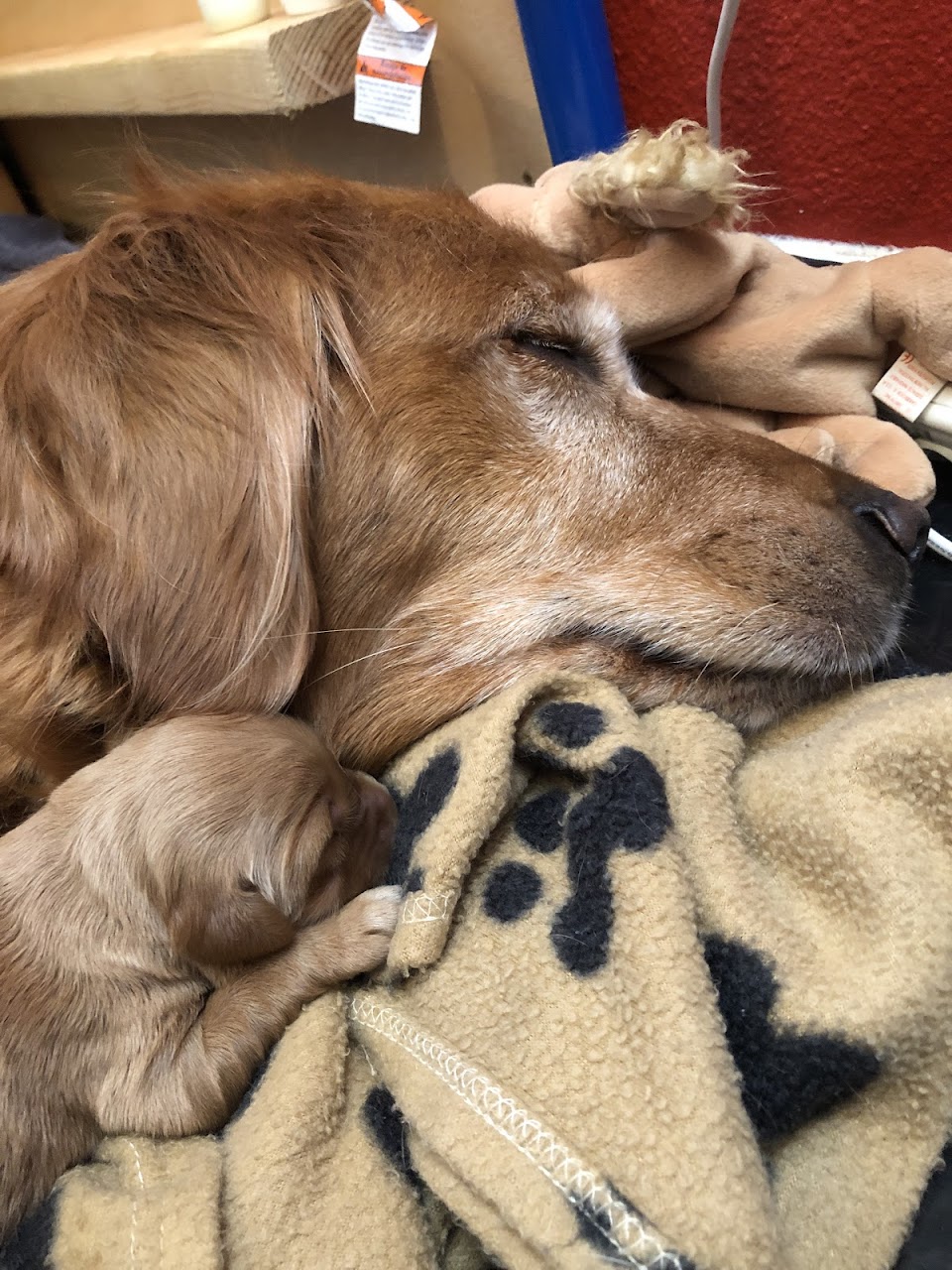 With the singleton puppy, Buster
She took good care of Buster
And he was huge
After her second litter, her face lost color
But she was loved to smile anyway
Ivy relaxing
From her last birthday
Ivy in 2021
Ivy loved car rides the most
She was the queen of patience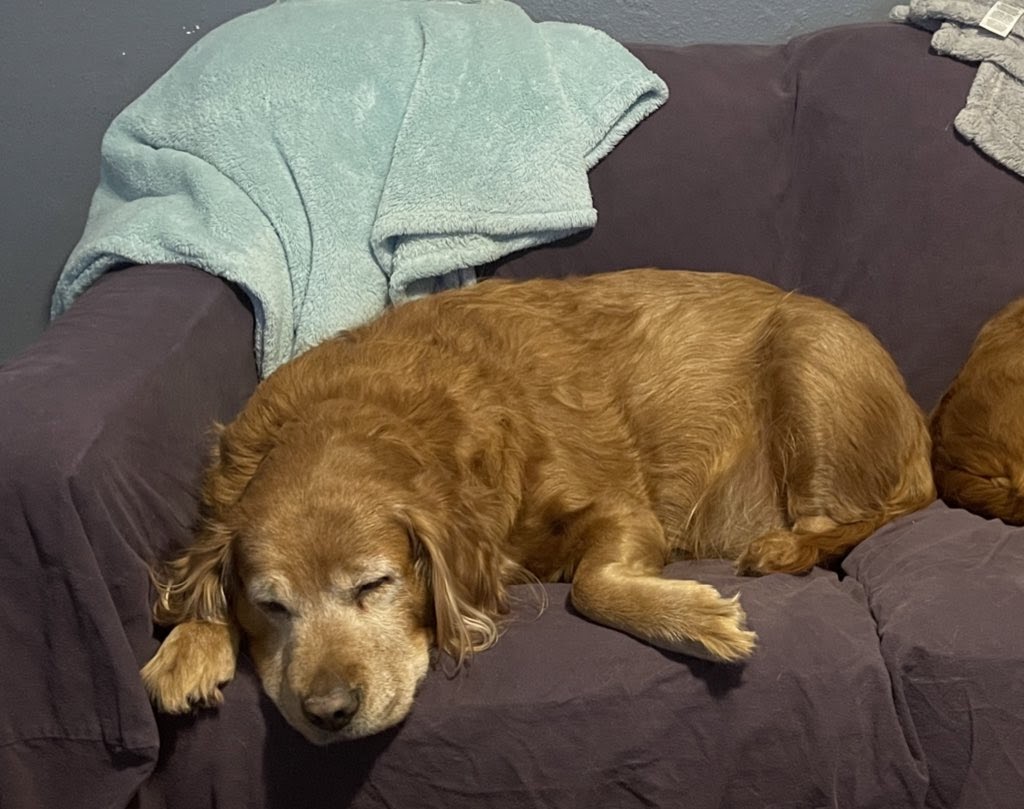 She was a frequent guest on my office couch while working from home
Her and Lia still did the same pose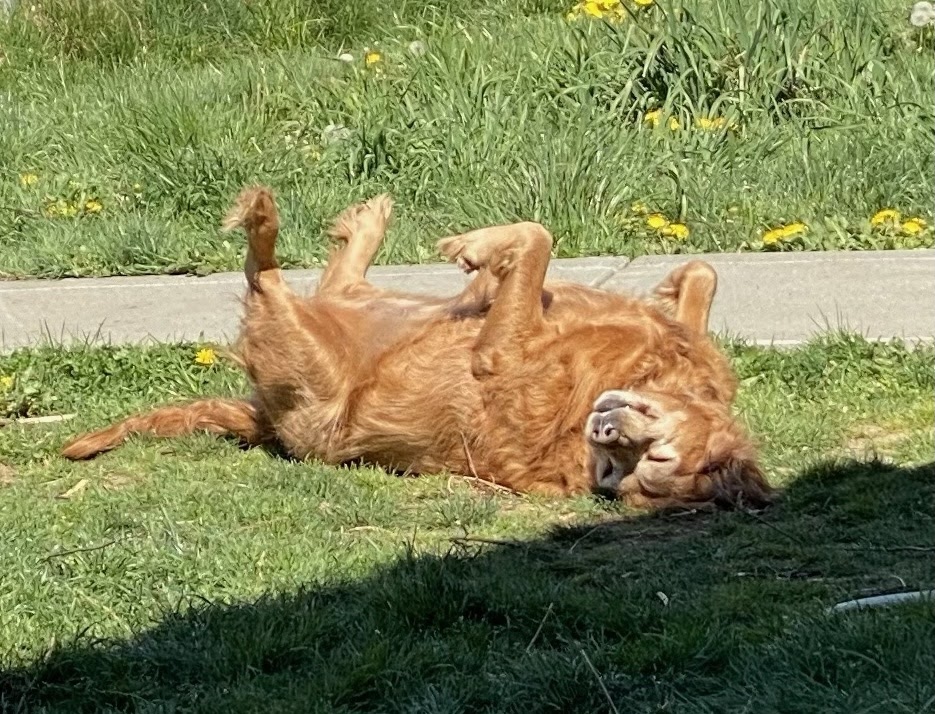 And loved rolling in the grass
Outside of the family, Ivy's best friend was Jeff
She supervised the BBQ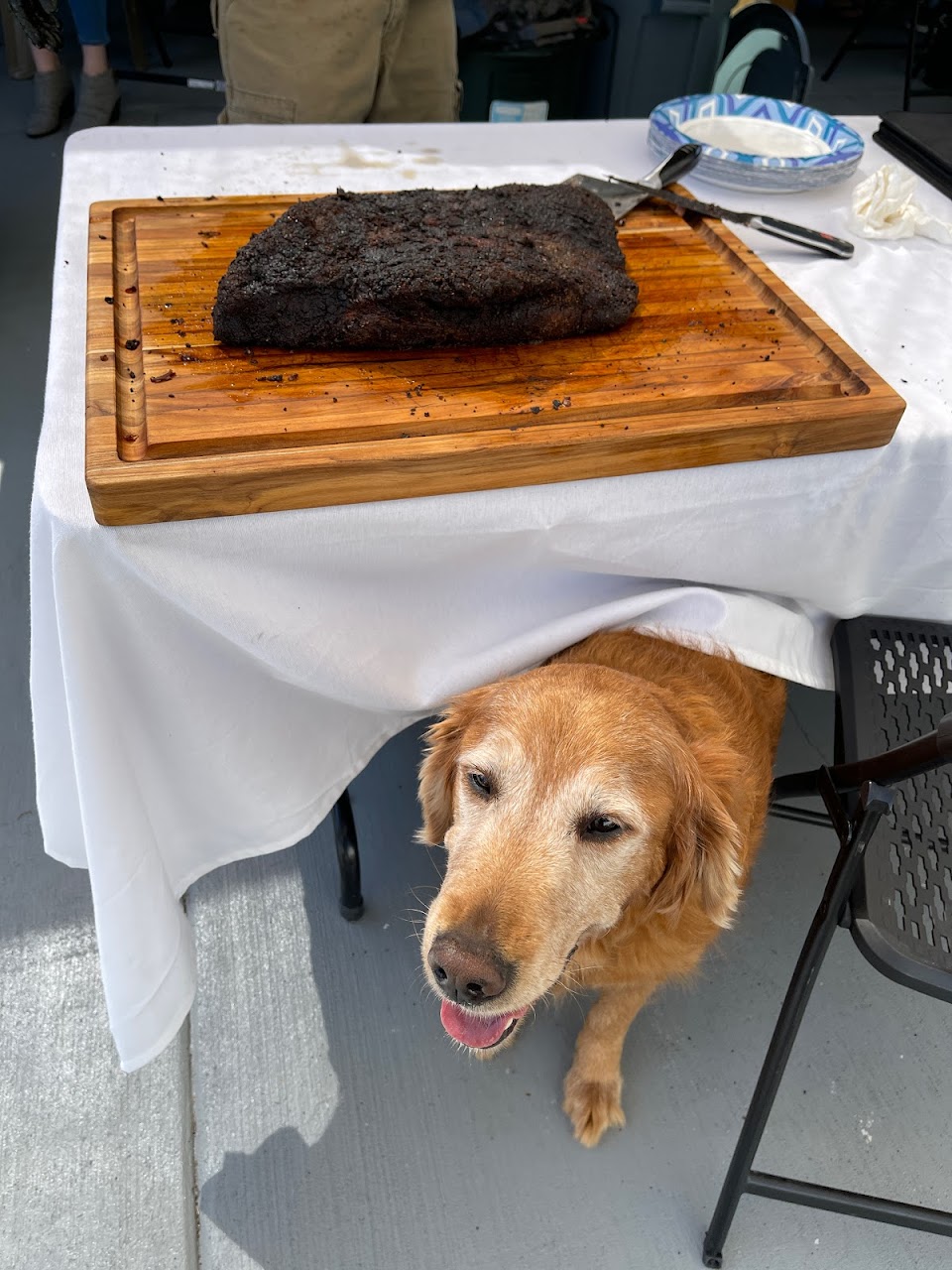 And asked for some extra
Ivy would lay in the sun to recharge her gold
Ivy on the way to the vet, the last picture I took of her
Our last pic of Ivy, from our visit on July 26
Nicknames
Ivy
I.V.
Iverson
Allison
A.I.
Ivysaur
Ivysaurus
Ivybyevy
Bones
Tubba Bubba
Mama
Chocolate Chip Cookie
Cinnamon Sugar
Powdered Sugar
Fatty
Fat Butt
Lumpy
Rolly Polly
Potato Bug
Old Lady
Ives
Ives St Laurent
Boney Ives
The Queen
Loaf
Eevee
Baby Mama
Lazy Bones
Memories
If you have any pictures or memories of Ivy that you'd like to share, feel free to send them my way.
Illness Details
Ivy started medication for a thyroid imbalance in April 2021. She had been gaining weight and acting more lethargic in the prior months. After starting treatment, she rapidly began losing weight and gaining energy. After a check-up to test and adjust the dosage in June, there was an abnormal reading on the blood test for a protein. We scheduled a follow-up visit for July 12 to have an ultrasound and to check her blood again. The ultrasound showed no abnormalities, and Ivy seemed to be doing well (down 30 lbs from April/May), so we tried switching Ivy to a hydrolyzed protein (HP) diet.
In the week after the ultrasound, we noticed that Ivy was not wanting to eat much. Neither her old food or the new HP food was very attractive to her. We tried a few different types of canned food and direct food like chicken, but she wasn't eating much. This was a big departure from the dog who would come running at the sound of anybody eating lunch. On July 20, we noticed that her stomach was also a bit distended, despite not eating much. The vet recommended that we start Ivy on steroids, which we did on July 22, to try to improve her appetite. Most dogs are very hungry when taking steroids. But, Ivy now refused to eat anything. I managed to get her to eat two bites of chicken, after quite a bit of convincing.
On July 24, Ivy's belly was quite distended and she had not eaten anything in over 24 hours. She was also looking a little bit yellow, which suggested jaundice / icterus. I took her to our vet (open Saturday mornings) and then was referred to an emergency / specialist vet. Ivy was checked in on Saturday afternoon. They started Ivy on an IV and started monitoring her stats. Her vitals were all stable. On July 26, she had a repeat ultrasound and a bunch of other tests, all of which were inconclusive. Her liver and internals looked fine, but her bilirubin was still abnormal, her abdomen had transudative fluid, and she wouldn't eat much at all. We visited Ivy that evening for about an hour, and she was about the same as when we had brought her in.
On July 27, Ivy's vitals were stable. In the afternoon, Ivy had a needle aspiration of her liver. The hope was to narrow down the cause to either a GI issue or a liver issue, to guide the next steps of either a scope or biopsy. After the aspiration, at about 17:00, Ivy's blood pressure and red blood cell count both started going down, and she was very lethargic. She had a transfusion of both red blood and plasma, which improved things for a short time, before her pressure and cells continued downward. She had a second round of transfusions, which did not help, and her breathing started getting labored. We drove straight to her. By the time we arrived at 21:55, she was nearing critical vital signs for heart and breathing rates. We had a minute to say good bye, as she was laying on the emergency table.
Our vet, the specialist vets, and the emergency vets did all that they could. We have some guesses, but will never know the final cause of her illness.